The emergence of Dark Kitchen Restaurants
Dark kitchen restaurants have sprung up all across the UK as hospitality ventures endure through the nation-wide COVID-restrictions to find a way to adhere to social distancing guidelines as well as remain open and active. By simply cutting out the in-dining experience usually offered by restaurants, dark kitchen restaurants have risen in popularity over the past year with the increased uptake of click & collect services and third-party delivery platforms as a way to manage the rising industry demands.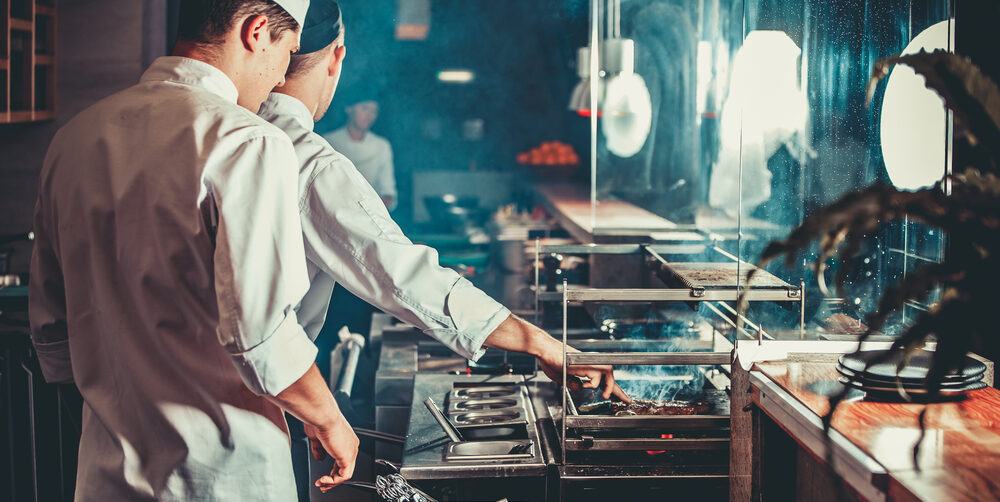 What is a dark kitchen restaurant?
A dark kitchen restaurant is a professional kitchen that produces food exclusively for delivery and forgoes the need for the now seemingly old-fashioned bricks and mortar restaurants. These concepts came to be to address the influx of business in the food industry and exist exclusively for food preparation and connect to a number of delivery services to cater to customers from the comfort of their homes. Much like traditional counterparts, a dark kitchen restaurant contains all equipment and facilities you'd expect for food preparation but axes the in-dining experience completely.
What are the benefits of a dark kitchen restaurant?
As we progress through the ever-changing landscape of hospitality, convenience seems to overtake all other priorities – even pricing. The demand for quick food delivered to your doorstep is no longer a luxury but an expectation which is where dark kitchens come in. Dark kitchen restaurants introduce flexibility and convenience in operating at limited capacity and ultimately save significant capital on facilities that are usually required when serving in-house.
The facilities themselves often serve as a rental space for restaurants to prepare orders or deal with an influx of takeaway orders without wanting to interrupt restaurant operations. Many bigger brands opt for dark kitchens to manage demand and adopt a cluster of small professional workspaces that allow established eateries to service customers without over-stretching existing sites.
Saving money
Running a delivery only restaurant cuts running costs by waiving the need for renting or buying seating space for in-dining – often incredibly pricey and not an option for smaller family-run restaurants who tend to opt for dark kitchens in place of fully-operating restaurants due to the need for significant capital.
Delivery only restaurants also cut out a large part of the customer service required in fully-fledged in-dining venues and instead replace it with third-party delivery platforms which in turn minimise staff required to work the shop floor – in particular serving staff. Such streamlined restaurants therefore greatly reduce overheads and expand their capacity to cater to a more diverse customer base through more diverse means.
Expansion is also far easier to do when opting for cloud kitchens – high street expansions are incomparable with what you'd spend to buy and expand dark kitchen premises. The leeway and scope therefore of scaling hospitality ventures within the dark kitchen concept is a great deal easier and more accessible if you're working with a restrictive budget.
Management made easy
A cloud kitchen is simply put a pure 'production factory' and cuts out any of the shiny marketing, deco and branding often required when opening a restaurant – at least the physical kind! This means there aren't a multitude of departments and teams to monitor; the kitchen is the only key component while the rest is sourced to third party delivery platforms such as Deliveroo and UberEats where your marketing spend will ultimately be dedicated to. No need for a big billboard or leaflets; you can pay these third parties to push your restaurant in the dedicated delivery app to customers within your vicinity and work on increasing your online presence.
Greater insight
Dark kitchens have their entire operation moved online outside of production including remote restaurant payment technology, restaurant inventory management and insight. All incoming data is digitised, trackable and accessible in the form of reports. Bespoke restaurant POS systems are often a great add-on for dark kitchens as cloud-based solutions and often integrate seamlessly to create a single platform to manage all your insight from. Most iPad POS systems include filtered reports for actionable metrics to track wastage, spot growth opportunities and even turnaround time. This includes customer information; any data entered into your dedicated restaurant ordering app is saved and will be included in reports, allowing you to track which customers are buying what and at what rate, giving you the perfect overview of your existing base.
Marketing is still a thing
While all the physical kerfuffle of advertising is pushed to the wayside, online marketing is still a key proponent in ensuring your venture is attracting the necessary attention to stay afloat. A dark kitchen ensures you save revenue by forsaking the in-dining advertisements needed, but a fraction will most likely need to be dedicated to any upsell and customer service your front-end customers experience via their phone screen.
Online visibility is becoming increasingly prevalent for takeaways with most customers referring to a quick Google search to access menus or images of menu items meaning there's a lot to be said about keeping your business optimized in online searches as well as social media marketing. With the limited access to direct customer interaction, cloud kitchens must harness innovative tech to replace the lack of upsell opportunities.
It's a rather gaping disadvantage when it comes to dark kitchens in building a strong and long-lasting customer relationship with the huge decline in physical or verbal interaction, all being limited to the online sphere. There is ultimately a need to tip the scales and invest in the online presence of it all which can be seen as an unexpected expense.
So…worth it?
With less free time, the staggering increase in deployment of online business models and a focus on convenience – dark kitchen answers to all of these while saving you a hefty sum on revenue. The demands of digital-age consumers along with greater investment in new tech are transforming the way hospitality ventures operate from the kitchen floor and up and dark kitchens may just be the future.