Reviewing the Mobile Ordering experience post-reopening
With a few weeks into reopening, hardy Englanders have been flocking outdoors to greet the warmer and surely numbered Summer days to get their hands on a restaurant cooked meal and a draught pint.  But businesses are still on uneven footing with full normality postponed another 4 weeks and the 19th of July couldn't come soon enough! But, the phased lifting of lockdown restrictions has proved a much-needed burst of normality and a very welcome opportunity to meet with friends and family again as we make tentative strides towards the post-Covid world. Consequently millions of customers have returned to hospitality with broad smiles and open wallets.
Like many, we've been delighted to sample some outdoor pubs this month, and as the UK's leading iPad based ePOS provider, we dedicated some time to offer commentary on the subject on the lips of many a pub-goer: is this pub's mobile ordering experience worth it, or is it just really annoying? Without naming any names, we've highlighted the faux pas we've experienced and how our own mobile ordering service Goodeats could've made everyone's lives that little bit easier.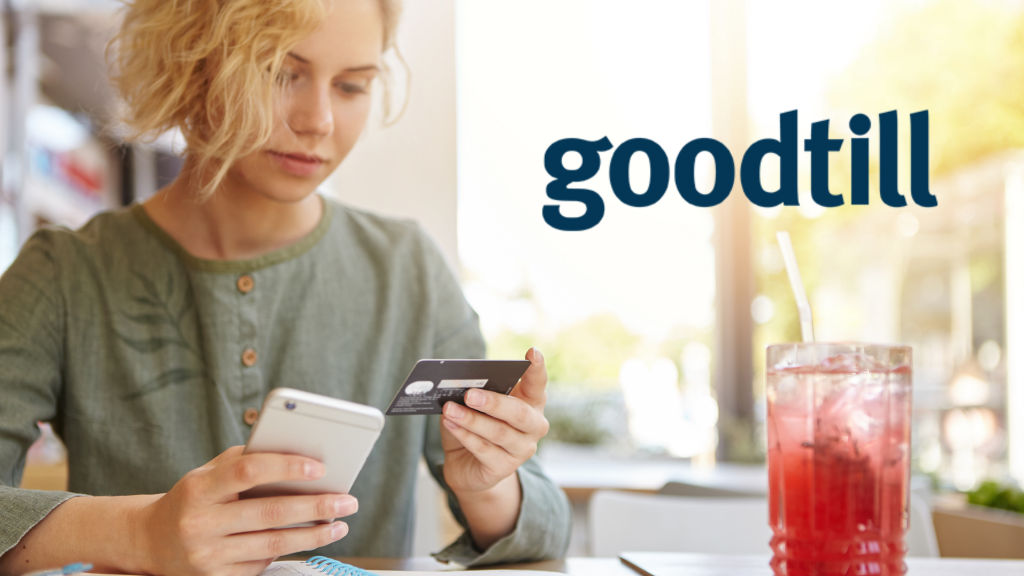 Signing in at the door
Since reopening, many businesses still require you to sign in at the door for the purpose of NHS track and trace.
The Problem:
The pubs we tried had a manual data sign up at entry creating just one extra barrier before we got to our night. Needless to say, queues formed with everyone in a rush to get the process over with – it didn't provide for the most welcoming of customer experiences to be standing at the entry, whipping out our phones and painstakingly entering our personal information before we've even sat down.
Goodeats:
Goodeats on the other hand allows you to print a track and trace QR code, that Goodtill by SumUp stores customer data on for 21 – days. This means you'll only need to update your information every three weeks as opposed to every time you enter a restaurant, pub or cafe. This saves time, ups your turnaround and ensures a far better experience for your staff and customers alike.
Download our app?
Before customers can order, they've got to download a no-doubt expensive pub chain app.
The Problem
That means customers using their monthly data-allowance and hard-earned eating/drinking time downloading an app they'll probably use once and resent having to download. These are valuable minutes you could be taking and fulfilling orders and reminding everyone how much they've missed your hospitality.
Goodeats
Goodeats by comparison is browser-based, either as a standalone URL or embedded onto your mobile-optimised website. Customers can start placing orders within seconds without the need to download an app – it's as easy as scanning a QR code!
Specifying outlet
Customers now have the app, but you're having to choose from any pub or restaurant in the chain nationwide.
The Problem
There's scope here for someone in London to order a pint in Derby and that's just going to cause frustration for everyone. Plus the customer must select which table to deliver to from a choice of 100 – the choices were simply not specified per outlet.
Goodeats
Use Goodeats instead to generate a QR code per table and the customer can never get confused or order to the wrong location – the hard work is already done. With incredible table management features to draw up your own seating plan, staff will be able to navigate orders with ease and customers won't have to scroll through 100s of tables numbers to select theirs – Goodeats is customisable from top to bottom where you can select your customer screen by site as a multi-site friendly platform.
Entering card details
From your lengthy card number, expiry dates and security number – some things are better done at home.
The Problem
Oh, you want my postcode and CVV number as well? This, coming hand-in-hand with downloading an app for one-time use, customers will also have to pull out their bank card then and there to painstakingly key in their lengthy card information. Not great.
Goodeats
Goodeats is integrated with Apple Pay. Much like instant contactless payment, Goodeats gets your payment processed with just a double click and forgoing the need for any manual entry. Confirm your order and it'll be on its way!
Notifications
With a new system of ordering, punters can get anxious and confused – communication is key.
The Problem
We had a bit of uncertainty once we submitted our order – while greeted with an order confirmation via the app, there was little more to go on as to the order status or waiting time.
Goodeats
That's why Goodeats keeps customers updated on the progress of their order via either SMS or email. If there's a big surge of orders, the system can automatically stagger them and contact those customers who will need to wait a bit longer. Everyone feels better when they have a better idea of the waiting time they're looking at, without needing to worry about whether their order has gone awry.
There are better solutions out there
It's fair to say that businesses embracing mobile ordering as a newly acquired tech in 2021 still require fine-tuning. We however are mobile ordering veterans and created our Goodeats platform prioritising comfort for our customers and end-users alike and are constantly updating our features. Let's face it – if a mobile ordering platform requires a how-to-guide, it's safe to say the platform isn't as user-friendly and accessible as you want it to be and may downright scare off segments of your loyal customer base!