Hospitality sector not exempt from Covid-isolation
With the latest list of sectors exempt from self-isolation rules announced by the Government earlier last week, hospitality was not one of them. This means workers within the industry will need to self-isolate for two weeks when coming into contact with a positive Covid-case, pinged via the NHS Covid app regardless of whether they have been vaccinated or not. 
While the past 6 months have been a slow but steady return to business as usual with the most stringent set of restrictions lifted, the latest news of exempt sectors gives us a peek into how hospitality may look in the coming months.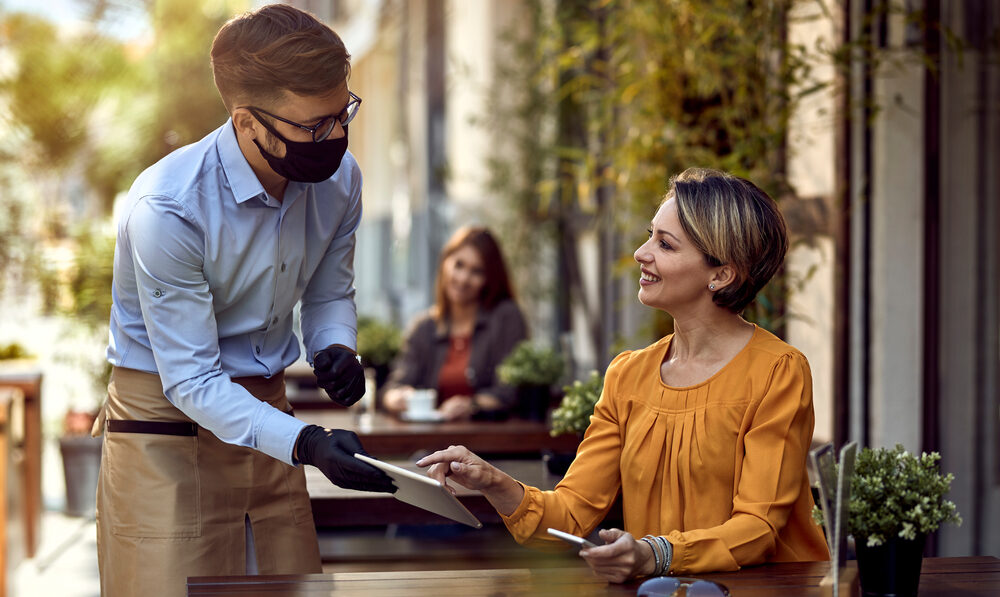 What problems you might run into
Hospitality managers will most likely run into two main issues; staff shortages and implementing social distancing.
Staff shortage is a looming problem for establishments everywhere, with managers set to see employees requiring weeks of self-isolation and therefore time away from work in an effort to adhere to Covid guidelines. According to Standard, more than 600,000 people were told to self-isolate in the week to the 21st of July after being notified by the NHS tracing app.
The re-introduction of Covid-secure guidelines can and will take time for those ventures who lifted these precautions as lockdown ended. From enforcing masks, equipping your establishment with sanitary stations and running at lower capacity will likely be back on schedule. 
Addressing staff shortage through Mobile Ordering
Social distancing will remain a priority including the implementation of measures to help businesses minimise customer staff touchpoints to help both the workforce and visitors stay safe and prevent transmission.
Ventures that have adopted a mobile ordering service to keep their business Covid-secure will serve as a lifeline to keep catering to their customers safely. 
Mobile Ordering solutions allow customers and staff to fulfil orders with minimal physical interaction through the introduced automation of order selection, fulfilment and payment processing. This capability will also speed up the turnaround to help establishments cut queues and keep their venture at minimum capacity and ultimately avoid a lengthy and crowded service where transmission is more likely. Visitors won't need a paper receipt, orders are instantly transferred to the kitchens and businesses will be able to offer up a frictionless and contactless way of order fulfilment.
Platforms like Goodeats can also pivot to accept table orders to allow customers to order and pay safely and securely from their tables in seconds, without having to download any new apps or break social distancing rules. The customer will simply scan the QR code provided and the order is paid for and processed in a completely contactless way.
What's next?
The rules will be reviewed on the 16th of August depending on the vaccination rates across the country, with the expectations to see the end of quarantine requirements in England for those fully vaccinated.