A new and better way to pay in restaurants
We've developed a brand new product for you that will transform the payment experience at your restaurant. Hundreds of restaurants have been asking for it and now, after months of hard work, we can finally reveal it:

SumUp Magic Pay is a QR-code payment solution that allows your guests to pay the bill via their phones in just 15 seconds instead of 15 minutes – magic!
Leave the old way of paying behind and move on the new one: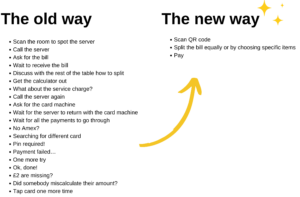 Ok fine, the old way might not always be that bad, but it often is a frustrating part that diminishes the guest experience at the end of a meal. On top of that it wastes a lot of your staff's time, which doesn't go well with shortages.
With Magic Pay it has never been easier to pay the bill which allows your guests to leave on a high and your staff to focus on delivering great service.
Let's take a closer look at how it works:
As you can see, it's really simple for your guests to pay the bill via QR code. No app needs to be downloaded, no account needs to be created, no registration is needed. Just scan, split, pay.
And it's simple for your servers too, thanks to the seamless integration with your POS. Once a table has paid, the POS will light up and the server will know that they're good to go.
It's no surprise that successful chains like Wagamama have already adopted this new way of paying and received a lot of praise from their customers for it.
If you would like to give it a try at your restaurant we have great news for you. We are offering an early access program that allows you to trial Magic Pay free of any transaction fees for 6 months! Spots are limited and we already have over 100 restaurants booked in. There are still some left, but you'll have to be quick, reserve yours today by booking a call: