How Peterborough United boosted its average transaction value by 40%
Peterborough United are a community-focused professional football club. Before the lockdown, the club regularly attracted over 7,000 fans to their home games. Goodtill spoke with Chris Brewer, Head of Media & Ticketing at the club to find out more about the partnership.
The Challenge
"We decided that we needed to change POS suppliers as we wanted to speed up transactions and boost revenue. As our existing standalone cash registers were very bulky we needed something that was smart, modern looking but also space saving. Moreover our existing tills did not integrate with our card readers – meaning that all payments had to be input manually which led to human error."
"Primarily we wanted to speed up service and make sure that if customers wanted to pay by card, they didn't have to re-join another queue. Sometimes a supporter would get to the counter after queuing not knowing that the till didn't offer card payments. We also wanted to show the fans that we were "moving with the times" and showing investment into the football club."
The club told us that they also wanted to lower overheads and reduce leakage by introducing improved reporting, forecasting and business insights such as stock control, waste management and staff logistics.
The new solution had to integrate with all areas of the business; from the bustling matchday concourse to the lucrative corporate areas – through to retail and non-matchday hospitality.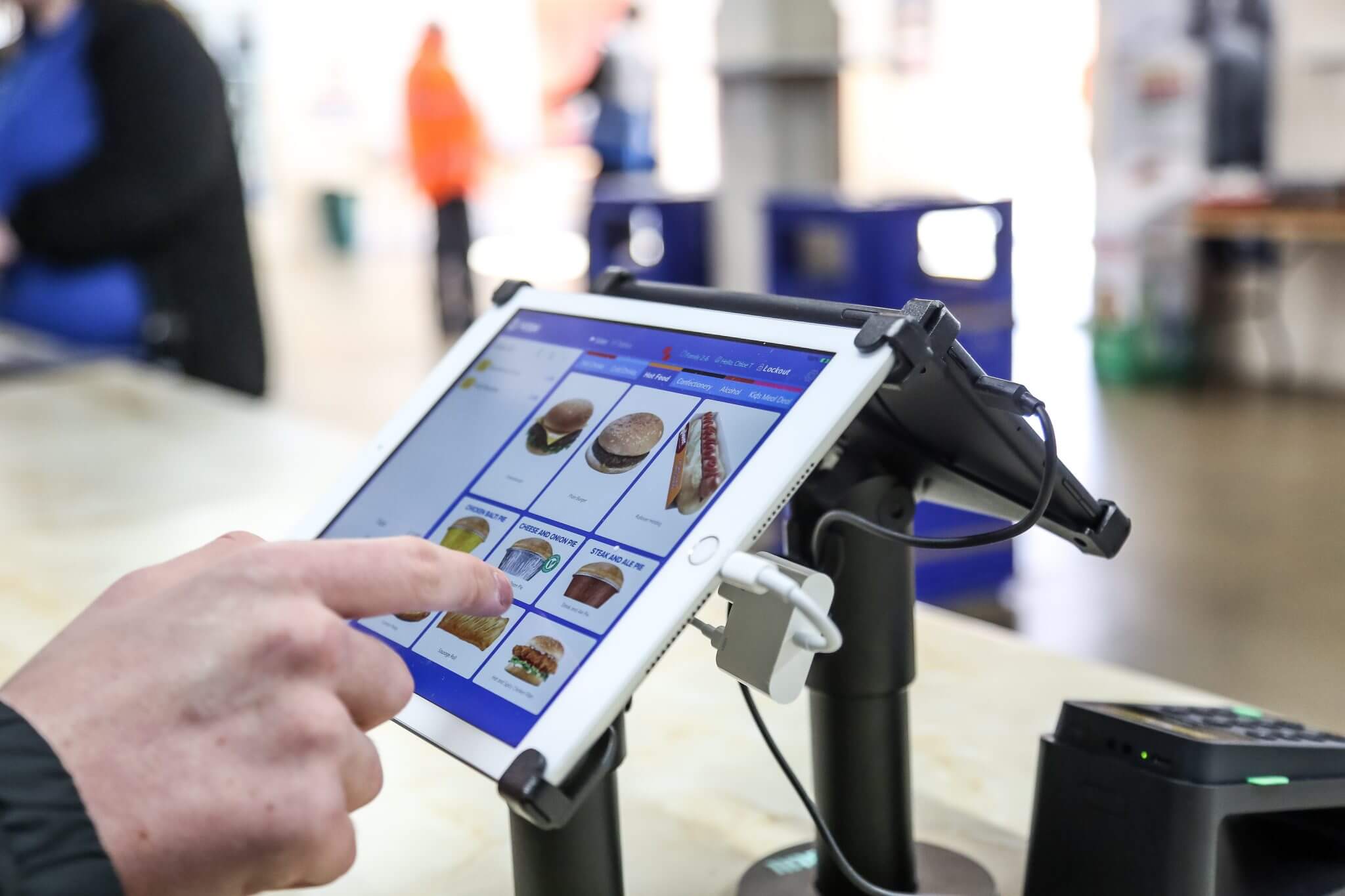 A general view of the new till and card payment system in the kiosk at the Weston Homes Stadium
The solution
Peterborough United decided to introduce the Goodtill by SumUp POS solution to it's London Road stadium after the management team saw it being used at other football clubs.
"Sector experience and recommendations are vital for stadium technology. We chose Goodtill by SumUp after seeing it in action and having a demo. The features it offered matched what we needed. The price also made financial sense when we modelled a business plan. We did look at other suppliers but Goodtill's overall solution was a clear winner."
"The customer experience at Goodtill by SumUp was outstanding. We had friendly personal correspondence with us from the very beginning of the process. We had full confidence in their system and service that we required. The transition moving from the old "system" to the new POS was very smooth. Goodtill by SumUp helped us along the way with in-person staff training and good support when it was needed. Goodtill also provided on-site assistance for two match days when we launched which gave us the reassurance and confidence that the solution would be a success."
"Fans have given very positive feedback on the new EPOS system and were impressed with the speed of service, ease of payment and the front-facing screen in the catering kiosks and hospitality bar. In the future we are looking to use the Goodtill by SumUp system in our retail store with online integration and link the system into our loyalty scheme."
Business benefits
"The forecast benefits of choosing the Goodtill by SumUp EPOS system were in evidence after our very first match. Customers spent more money when paying by card compared to cash. On average, a cash transaction per customer was around £5 compared to over £7 for fans paying by card (a rise of 40%). The spend-per-head overall also improved with the increase of card readers throughout the stadium which increased our overall revenue and profit margins. The system also allowed us to understand when the peak times were on match days and how best to cater for them. The reporting system has allowed us to streamline the stock and delivery process reducing both labour costs and over-orders."
Advice for other businesses looking to change their POS supplier.
"We would have no hesitation in recommending Goodtill by SumUp as a POS solution to other high footfall venues. The improvements we have seen in queue times, customer satisfaction and overall takings have been significant."
"Make sure you choose a business who is experienced in your sector. For example, the Goodtill by SumUp team really understands stadiums and have been great to work with. On install, they had no problems working with our own restrictions and time constraints in between home fixtures. Ongoing support has been responsive and efficient with both phone and video calls helping us to overcome our challenges."
"Make sure that your supplier is quick to update your POS system and offer new features such as mobile ordering. We were impressed that instead, of locking down, Goodtill by SumUp launched the Goodeats mobile ordering system during the Covid pandemic. It was easy to set up and use. The platform allowed us to sell our surplus stock online.
"We are very happy with our partnership and we hope that it will continue for many years to come. We would happily provide demos for any other football club looking to upgrade their POS system."